Admission
Admission to the MS-AEAB program begins with an application to Graduate School that requires a $40 ($50 for international students) nonrefundable application fee. Students who plan to engage in advanced study in the AEAB Department must first be admitted to the Graduate School. International students must apply through International Student and Scholar Services by completing the International Application of Admissions form and paying the nonrefundable application fee of $50. Admission to the MS-AEAB program is coordinated through the Department of Agricultural Economics and Agricultural Business once all materials have been received and processed by the Graduate School.
Admission to the Graduate School and to AEAB graduate programs for the Master of Science in Agricultural Economics (AEEC) or the Master of Agriculture in Agribusiness requires that students attain masters regular status which is granted to applicants with at least a 3.0 undergraduate GPA or 3.0 in the last half of their undergraduate work, (currently we are not requiring GRE scores as part of the admissions process; students are encouraged to submit these scores if they already have them to strengthen their application.  We still require students to upload their TOEFL scores, transcripts, letter of intent, writing sample, and three letters of recommendation with their application). Students without an adequate GPA can apply to the Graduate School as masters provisional status and take 9 graduate credits plus pre-requisite undergraduate courses. With a 3.0 GPA on the 9 graduate credits the student can reapply to the AEAB program for admission.  Note that a student on provisional status who does not meet the 3.0 GPA on the 9 graduate credit hours is subject to dismissal.
If applying for teaching or research assistantship only, select
Your letters of recommendation/reference are to be uploaded on to your graduate school application when you apply.
Further information on Assistantships can be found by scrolling further down this same webpage.
The graduate school may require that international students complete one or more English as a foreign language courses. If required, the student should enroll in the first such course during his or her first semester at NMSU. In all cases, the first course must be successfully completed by the end of the second semester of enrollment. All English as a foreign language courses must be satisfactorily completed by the end of the student's fourth semester.
No specific deadlines for receipt of applications for admission are enforced into the masters programs overseen by the department, but applications are expected by March 1 for fall semester and by November 1 for spring semester.
Majors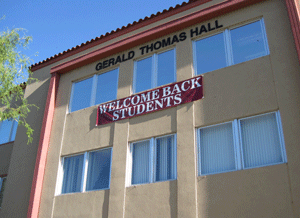 The Department of Agricultural Economics and Agricultural Business (AEAB) offers:
four different Master's Degree programs and two Doctoral Degree programs:
A Master of Science in Agricultural Economics in cooperation with the graduate faculty of the Department of Economics; a Master of Agriculture with specialization in Agribusiness, which draws from classes offered by the College of Business; a Master of Business Administration with specialization in Agribusiness administered through the College of Business; a Doctor of Economic Development (DED) offered jointly with the Department of Economics, Applied Statistics, and International Business. The department also jointly offers the Master of Science and a PhD in Water Science & Management - an interdisciplinary program designed for students who want to study beyond just one discipline and offered by the Agricultural Economics and Agricultural Business Department, the Department of Animal and Range Sciences, the Department of Geography, the Department of Civil Engineering, and the Department of Plant and Environmental Sciences.
A candidate for a master's degree outside our department may select a minor in Agricultural Economics in addition to their major. Completion of nine or more credits of graduate work (with 3 AEEC courses) is necessary for this minor at the master's level. The selected courses should be approved by Dr. Ram Acharya, the Chair of the Departmental Graduate Committee and AEAB Graduate Programs Coordinator. To record a minor on a student's permanent record, the minor must be listed on the "Application for Admission to Candidacy" which is submitted to the Graduate School.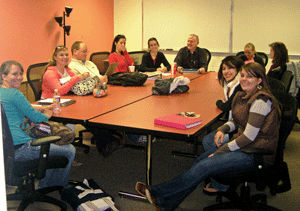 The Water Science Management site gives students more information on applying for the MS and PhD in Water Science Management (WSM). Degee plans for these two degrees can be accessed in the links below.
Graduate Program Coordinators
Students interested in pursuing any of these programs should contact the appropriate Graduate Program Coordinators below or Dr. Steve Fraze (Interim AEAB Department Head). The Graduate Program Coordinators advise graduate students about their program of study, verify that students meet Graduate School and Departmental requirements, and administer departmental admissions, financial aid, and placement.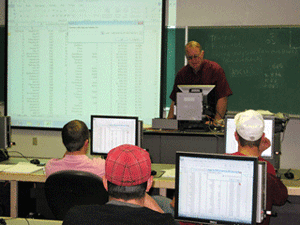 Dr. Ram Acharya, AEAB Graduate Programs Coordinator, responds to inquires regarding graduate study for the degrees Master of Science in Agricultural Economics, Master of Agriculture with specialization in Agribusiness. Additional information on the MBA with specialization in Agribusiness can be found here.
Dr. Ram Acharya, Graduate Programs Coordinator
GT Room 353E
Phone: 575-646-2524
Fax: 575-646-3808
Email: acharyar@nmsu.edu
TBD, WSM Program Coordinator, Water Science Management Program (WSM)
Stucky Hall, Room 111
Phone: 575-646-4198
Email: wsm@nmsu.edu
URL: https://wsm.nmsu.edu/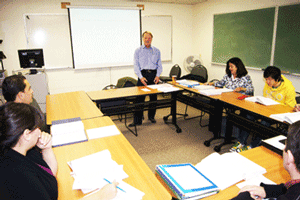 Dr. Yu-Feng (Winnie), DED Program Director
GT Room 214
Phone: 575-646-4662
Email: lwin@nmsu.edu
Assistantships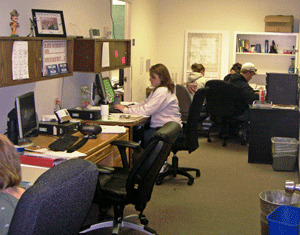 Graduate assistantships in teaching and research are available through the department and awarded on a competitive basis.  Students who are accepted into one of programs and submit an application for assistantship funding should note that though all applications are thoroughly considered, the funding for these assistantships is very limited and thus only a select few are awarded.
Teaching assistantships (TA) are awarded for the academic year (9 months). Teaching assignments for Teaching Assistants (TAs) are changed each semester; Teaching Assistants will often have work assignments with professors other than their advisor.

Research assistantships (RA) are awarded for either 9 or 12 months. Research assignments for RAs are usually with the same faculty member for the duration of the student's program of study.
Assistantships (TA and RA) may be awarded for 10 hours (half-time) or 20 hours (full-time). Graduate students on assistantship are required to carry and complete at least nine graduate credit hours of graded graduate coursework per semester, which is considered to be a full course load. Students must also have a regular admission status to receive an assistantship and must maintain a graduate GPA of 3.0 to remain eligible for assistantship.
All students with at least 10 hours of assistantship receive a waiver of out-of-state tuition.
The Department will use information provided in your application package to make decisions regarding assistantships.
Advising
Faculty Advising
Upon entering the program, each graduate student is temporarily assigned to a Faculty member for advising by the Graduate Program Coordinator based on the student's areas of interest and career objectives. Eventually, students may remain or choose a new permanent Faculty Advisor that is usually in a student's principal field of interest. Faculty Advisors, along with advising students about courses, research, and job placement in that field, also assist advisee(s) to ensure they are on track for graduation. Graduate students are required to meet with their advisor on a regular basis to ensure graduation requirements are being satisfied.
Departmental Student Services Center
The Departmental Student Services Center maintains copies of all graduate student records.
NMSU Graduate Links