Farm management, production economics
Jim Libbin is a professor in the Agricultural Economics and Agricultural Business Department. He received his BS in Agricultural Science and MS in Agricultural Economics from University of Illinois at Urbana-Champaign and his PhD in Economics from Iowa State University.
He has taught Agribusiness Management, Advanced Agribusiness Management, Economics of Baseball, Applied Production Economics, Agribusiness Financial Management, and various Special Problems and Seminar classes.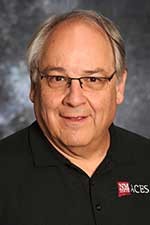 Jim D. Libbin
Office Location: GTH 365
Phone: 575-646-7699
Email: jlibbin@nmsu.edu