Production Economics, Food Supply Chain Management, and Marketing
Alwin Dsouza is an Assistant Professor in the Department of Agricultural Economics and Agricultural Business at New Mexico State University. He earned his Ph.D. in Business Administration (Agribusiness) from W.P. Carey School of Business at Arizona State University. His research interests primarily lie in identifying mechanisms that lead to efficient production and marketing of perishable foods in the supply chain. His research focuses on (i) Production Economics, (ii) Risk Management, (iii) Contract Farming, (iv) Food Security, (v) Supply Chain Management, and (vi) Food Loss and Waste.
He has published in peer-reviewed journals such as Applied Economic Perspectives and Policy, Food Policy, Agricultural Economics, Agribusiness, Food Security, The Australian Journal of Agricultural and Resource Economics, and Land Use Policy.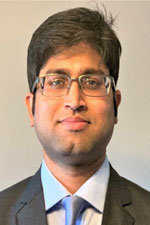 Alwin Dsouza
Office Location: GT 346
Phone: 575-646-7194
adsouza@nmsu.edu