Lowell Catlett is a Regent's Professor in Agricultural Economics and Agricultural Business and Extension Economics and the Dean of the College of Agricultural, Consumer and Environmental Sciences at New Mexico State University.
He received his BS from West Texas State, MS from New Mexico State University and PhD in Economics from Iowa State.
His areas of expertise are: Marketing Economics, Futures Markets, and Production Economics. His interests include: Advising and teaching both undergraduate and graduate students, Futures Market Research, Futuristic Planning and Forecasting.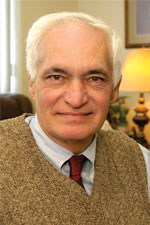 Lowell B. Catlett
Office Location:
Phone: 575-646-3215