John Townsend is a College Professor in the Department of Agricultural Economics and Agricultural Business at New Mexico State University. He has a B.S. in Agricultural Extension and Education and a M.S. in Agricultural Economics and Agricultural Business from New Mexico State University, and a Ph.D. in Agricultural Economics from Oklahoma State University.
Dr. Townsend is the department's Undergraduate Programs Coordinator. He is responsible for responding to inquiries regarding undergraduate study for our two majors, Agricultural Economics/Agricultural Business (AEAB) and Natural Resource Economic and Policy (NREP) as well as the department's minors in Agricultural Business Management (ABM) and Natural Resource Economics (NRE).
Before coming to NMSU, Townsend taught at Oklahoma Panhandle State University for over 18 years where he served as an academic advisor and taught courses for multiple schools within the university.
Townsend's fields of interest include: commodity futures and options markets, agricultural marketing and commodity risk management and microcomputer applications and security.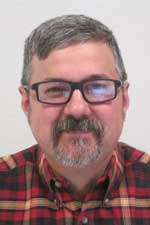 John Townsend
Office Location: GT 381
Phone: 575-646-2401
jtownsen@nmsu.edu