Sustainable agricultural production, food security, marketing, and trade
Ram Acharya is a Professor in the Department of Agricultural Economics and Agricultural Business at New Mexico State University and teaches Applied Production Economics, Advance Agricultural Production, and International Agricultural Trade and Policy courses. His recent research projects focus on the sustainable production of agricultural products, the evaluation of alternative production and processing technologies, and agricultural trade.
Dr. Acharya received his Ph.D. degree in Economics from Auburn University, MS in Natural Resource Management from University Putra Malaysia, and MA in Economics from Tribhuvan University, Nepal.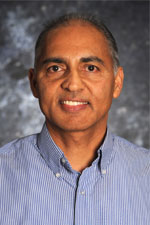 Ram Acharya
Office Location: GTH 353E
Phone: 575-646-2524
Email: acharyar@nmsu.edu